"A Guitar Player Locked Inside A Keyboard Player's Body," is how Lindsey described himself for many years. Raised in Blue Hill, Maine, he never grew up there (or anywhere), but did manage to get through nine years of piano lessons starting at age six. In high school, he realized that despite years of excellent classical instruction, he was incapable of playing keyboards the way he'd heard on popular radio.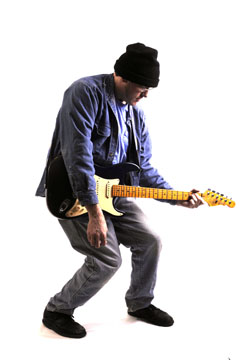 …Then his dad brought home a "fake book." A fake book is a songbook containing just the skeleton of a song; the melody is written down, along with the corresponding chords. From this, he developed a new approach and taught himself to play by ear.
With an eye toward improvement, but not necessarily fame, Lindsey took a day job at a print shop and continued performing with a unique style suited to live situations, striving to create the finest music possible with the resources at hand.
Eventually, he quit his full-time job, and now plays in several bands and performs with trios, duos, and as a solo act. Drawing from a unique philosophy of music, Lindsey explores contrasts in many forms…
His lyrical content is rife with multiple meanings, yet the degree of listener involvement remains approachable and voluntary. You are as free to enjoy a catchy melody or phrase as you are to explore the hundreds of metaphors in his song lyrics. As for the guitar player locked inside a keyboard player's body… it's kind of like a coming out party that keeps on going!